[rev_slider alias="slider8″]
Photo Booths and Flipbooks
from San Francisco to Las Vegas
Servicing the entire state of California and Las Vegas, our San Francisco based photo booth rentals and flipbooks rentals have been making thousands of parties memorable for over a decade.  Our clients include Paypal, The Giants, the PGA, Groupon, Apple, Google, Facebook, Comcast, Virgin and hundreds more. Check availability now before its too late to add A Flying Camera to your next celebration.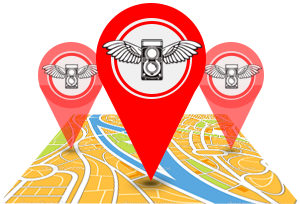 Party Over Where?
 We service nearly all of California and Las Vegas without any travel fees. Check out our nearest satellite location near you to get your party going.
---
Napa/Sonoma
Sacramento Area
Fresno/Central Valley
San Diego
San Jose
Los Angeles
Las Vegas
---
CLIENTS WE LOVE 
[rev_slider clients]
Specializing in Photo Booths and Flipbooks Rentals
All of us want our party, wedding or event to be the talk of the town. And every good host and hostess knows that it's the unexpected additions that bring a party to the next level. As you plan your own event, be sure to include A Flying Camera's Photo Booths and Flipbook Station rentals at the top of your list. Along with your festivities, you can now add the gift of smiles because not only does a portable photo booth increase the fun at your party, but it also gives your guests something to take home. And that's sure to remind them again and again of how incredible your event was!
Affordable, easy, convenient, and with our 100% Risk Free Refundable Deposit – these rentals are a no-brainer. Not only do we provide the booth and an fun-loving attendant, we provide photo paper, double prints, and photo guest books with each package. We make sure to give you everything you need to make great memories. Poses, smiles, funny faces, dress up props and goofy creativity are sure to leave an impression on everyone who attends. With our excellent guarantee, there's no reason not to add this unexpected twist to your party. Everyone loves a goofy grin.
Photo booths bring people together and bring out the laughter. Watch as your guests mingle and enjoy getting to know each other, posing for pictures or showing off the ones that have already been snapped and printed. All ages and all types will enjoy a bit of photo magic as they become mini movie stars basking in the glow of the photo booth paparazzi. Whether you rent it for just two hours or a whole day, these magic memories are at your fingertips at any time: weekends, holidays, days or nights. This experience is sure to be unique and unforgettable for your guests, no matter who they are.
Get Pricing & Availability