[rev_slider alias="slider8″]
[vc_row no_margin="true" padding_top="0px" padding_bottom="0px" border="none"][vc_column width="1/1″ fade_animation="in" fade_animation_offset="45px"]
Holiday Parties
San Francisco | Holidays | Mitzvahs | Corporate Events | Schools | Weddings
Photobooth Rentals for Halloween, Christmas, and New Year's Eve Parties!
Christmas or Holiday parties are yet another amazing opportunity for a successful photobooth rental from A Flying Camera. Having a photobooth at your next Holiday party will not only keep your guests staying later, but will also have them talking about your great idea. They can also enter their email addresses to get copies, or just view them all on Facebook for months to come. And because our booths print actual paper photos, they even get a present!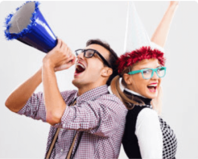 Halloween photobooth rentals are becoming more and more popular, and no wonder because they produce some of the most epic photos we've ever seen. Your guests will be arriving in all sorts of funny, creative, and scary costumes, so why not allow them to capture the memories inside a Halloween photo booth. We still bring a selection of our amazing props, but they seldom rival the costumes. It's like Halloween parties were invented with photobooths in mind!
New Year's Eve parties in San Francisco tend to be some of the most uninhibited and exciting parties there are, which is why they also make some of the greatest photobooth pictures. Let your guests ring in the new year with a bit of flair from our amazing props table. Heck, plenty of them might already be wearing silly hats or oversized glasses. After a few glasses of champagne (or whatever) all the inhibitions fall away, and things get wild behind the photobooth curtain. And if some people's memories are a little hazy the next day, there are plenty of funny, sexy photos to remind them of your great party.
Saint Patrick's Day, Cinco de Mayo, aw hell, even Arbor Day can be improved with a photobooth rental. So spice up your holiday party with a San Francisco Photobooth from A Flying Camera.